Form your future!
Are you as a company willing to invest in your employees well-being
and lay the foundation for a healthier business climate?
Receptionist & Personal trainers Kempinski hotel Chongquin – 2012
SpiritCloset is looking for companies that are interested in encouraging their employees to be in their power, to help them learn, grow, and come to understand the importance of to standing in that power.
Employees who are standing in their power strengthen their credibility towards the customer and it enhances cooperation among both colleagues and customers.
I, Ewa, have had the opportunity to work globally with training and coordination for several years. The different methods I have developed during these years encourage growth of self and awareness while keeping a strong focus on service.
My personal lessons have enriched my life with more humility, more curiosity, and more clarity into the process of community integration, birthing new insights into community dynamics.  As we create an integrated environment, where we are all effectively in the same boat, communication between people begins to flow freely. The strength I have gained working globally comes from being forced out of my comfort zone.  Culture, gender, hierarchy, etc., have all provided challenges that have deepened my leaderships skills…
The focus has been on

Leadership training
Bringing the process forward with a clear focus on results.
Personal development –  motivating and inspiring mindfulness
Through group dynamics, shaping and inspiring new ideas, individually and as a team, to develop the tasks ahead.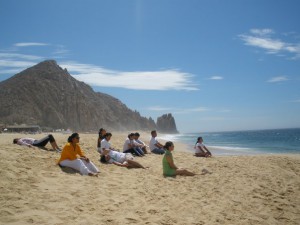 Training is over, last meditation on the beach in Mexico – 2008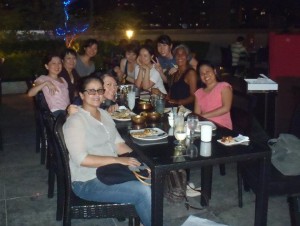 Dinner at Mustafa's with the Capella Singapore crew – 2012. Yummie!!!!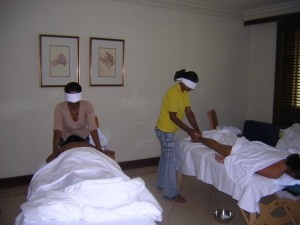 What better way to get to know a body and one's own perception, massage blindfolded...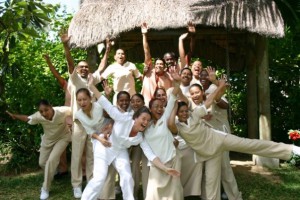 And this was the result after the massage. One&Only Mauritius – 2007
Praise
During the course of a 5* Spa pre-opening in China I was able to observe Ewa teaching a class to Non English Speaking students our  Spa Operating standards, Ewa speaks no Chinese b

ut still managed to have the class engaged and eager to absorb what she was teaching. The class all fed back well on her classes and all are performing their duties to the standards we require. An effective teacher.
Richard Grew // Resenses Spa -2012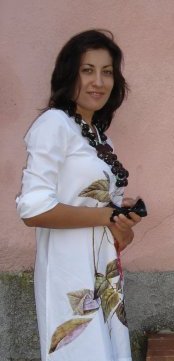 I would be delighted to give you an insight into what a joy it has been to work with Ewa during her time as international trainer at Auriga spa, Capella Singapore. She has been training award winning Auriga spa team of therapists during pre-opening training period in 2009 as well as follow up trainings in 2010, 2011 and 2012.
Ewa is a dedicated, passionate, intuitive trainer and practitioner. All therapists look very much forward to spend time with Ewa during her visits. Therapists learn much more than massage and spa treatment but ways of holistic care, intention and connection with the guests. This kind of specialized training allows therapists to provide most positive and healing treatments.
Ewa is very generous sharing her knowledge and talent. She incorporates various methods of training therapists, including meditation and energy healing. The standards of Ewa's trainings are consistent, reliable and unique. Ewa's contribution to Auriga spa success in invaluable and allowed us to achieve 5 star Forbes rating as the only spa in Singapore in 2011 with such rating. I would highly recommend Ewa for spa therapists' trainings, workshops or any other healing/ massage sessions.
Should you need any further information, please don't hesitate to contact me.
 Alsu Abdulina, Director of Auriga spa, 16th of February, 2013